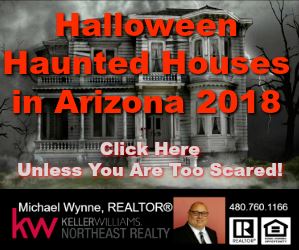 A haunted house or ghost house is a house or other building often perceived as being inhabited by disembodied spirits of the deceased who may have been former residents or were familiar with the property.
So why do so many individuals like to visit haunted houses and wet themselves? Virtually everyone knows what it's like to feel really scared: A pounding heartbeat. Faster breathing. Nervous perspiration. Butterflies in the stomach.
But whether that fright is caused by watching a nail-biting horror movie, listening to a spine-chilling story, or prowling through a dark-as-night haunted house on Halloween, some people revel in feeling frightened.
Enjoy the frightful fun as you walk or ride through the many Halloween haunts in Phoenix. Haunts include haunted trails, hayrides, mazes, houses, and more. Bring your friends for an evening of scary fun.
CLICK HERE for a list of Haunted Houses in Arizona.